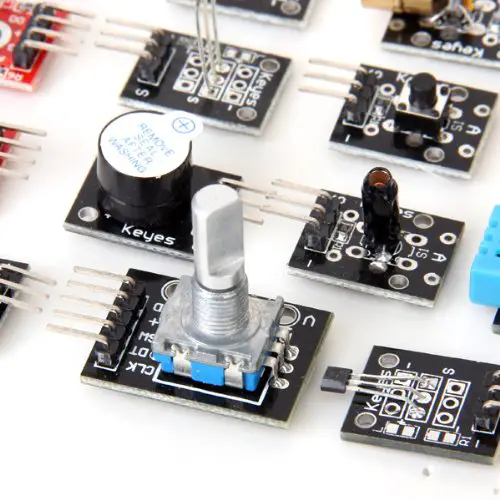 50 of the most important Raspberry Pi Sensors and Components
One of the many advantages of the Raspberry Pi is that it is possible to connect almost all standard Arduino and Raspberry Pi sensors and components to the various GPIOs. Moreover you can evaluate and / or process the values with programs and other software. This accessory can be used in projects such as Smart Home (home automation), robot kits or weather stations, etc.
This article describes and summarizes over 50 of the most important sensors and components for Raspberry Pi's as well as Arduinos and provides you with a full Raspberry Pi sensor list.
Menu
The described Raspberry Pi sensors, modules and components are divided into the following categories:
Temperature / Humidity / Air Pressure / Gas
Motion Sensor
These Raspberry Pi sensors can be used to detect motion, but not all of them are "real" motion sensors.
Navigation modules
Raspberry Pi Sensors – Wireless / Infrared (IR) / Bluetooth
Motors
Unlike ordinary motors, servo motors can be individually controlled. Only the indication of the angle of rotation for moving the motor is necessary. PWM (pulse width modulation) signals are sent to the motor. The Raspberry Pi can use this method of transmission. Using the Python GPIO library or WiringPi is particularly easy.

Price: about $2-3 / ca. £2

Step motors are motors that can "go" a certain number of steps in one revolution. Two electromagnets are built in, which move the axis through different poles. How the polarity looks like is written in the data sheet of the motor.
One of the most popular stepping motors (because it has a lot of steps and is nevertheless cheap) is the model 28BYJ-48. This motor has 512 steps, each step consisting of 8 sequences. This means that a full revolution has 4096 steps (or one step is made per 0.087°).

Price: about $2-3 / ca. £2

Those 28BYJ-48 stepping motors are often supplied with a driver board. The supplied board usually has a ULN2003 IC, which holds the voltage for the 5V motor, but can be controlled with 3.3V. This is important because the GPIOs are protected and no transistor or relay is needed.

Price: about $3-4 / ca. £2-3

An alternative driver IC is the L293D. The advantage of this module, compared to the ULN2003, is that it can also be used with higher voltages than 5V. Because many alternative stepping motors (e.g., fewer steps for faster rotation or higher pulling force) require more than 5V, they must be powered by an external current source. The L293 IC is ideal for controlling these motors. By the way, it is even possible to control two motors simultaneously (individually).
Analogous Raspberry Pi Sensors
Power / Current Supply
The GPIOs of the Raspberry Pi work with 3.3V, although it also has a 5V pin. However, many devices require a higher voltage. In order not to combine the circuits, one can use relays, which are basically switches. This has the advantage that you can also switch circuits with higher voltages with the Raspberry Pi, without risking something.

Price: about $3-4 / ca. £2-3 (depending on the amount)

With the LM2596 (and similar) modules, higher voltages can be regulated downwards. For example, you can regulate the current of (rechargeable) batteries to the required 5V USB input voltage. However, no alternating current (AC) is allowed, but only direct current (DC), as supplied by batteries.

Some modules and sensors for the Arduino output 5V signals, but this would destroy the GPIOs, since those work with 3.3V. Here, a level converter can be used to further control the signals.
It is important to ensure that bi-directional level converters are purchased so that you can send and receive signals as well.
Displays
Other Modules, Components and Raspberry Pi Sensors
The square 8×8 LED matrices are available in red and green. It is possible to control each individual LED with the help of the MAX7219 IC. In addition, many of these modules can be plugged together, resulting in a large dot display. The signal is sent via SPI. I have written a library, which let's you easily control these matrices.

Price: about $X3-5 / ca. £2-3

The Raspberry Pi can also be used as a micro-controller, but it has a lot more functions because it runs an operating system. A true micro-controller is e.g. the Arduino. It can, for example, also read analog sensors. The Arduino can also be operated very easily on and with the Raspberry Pi, e.g. via USB or 433 MHz or 2.4 GHz radio. Since Arduinos are cheaper than normal Raspberry Pis, they can either serve as extensions for the GPIOs or as an outdoor station for certain sensors whose data is transmitted wirelessly. As there are more projects for the Arduino than for the Raspberry Pi, you can also implement and run those projects on the Raspberry Pi (via the Arduino detour).

Price: about $5-6 / ca. £4 (Nano Model)

A numeric input field is required for vault or code lock projects. For this there are own modules, which look like a numpad on the PC keyboard. These modules are available in different sizes (3×4, 4×4, etc.) and can be read directly at the Raspberry Pi. By entering certain numerical codes / combinations, you can execute secret actions 😉

Price: about $2-3 / ca. £2-3

A solenoid valve is suitable for interrupting the flow of liquids or gases. A kind of "opener" can be built between two pipes or hoses. Ideally, magnetic valves are used, which are operated with 12 volts. All you need is an external power supply and a relay on the Raspberry Pi, which switches the solenoid.

You can use those valves e.g. in the outdoor area (keyword: automatic irrigation) or also in smaller projects such as intelligent coffeemakers, etc.

With the aid of water flow meters (Hall effect sensors), the amount of water flowing through the tube per minute / second can be determined at the Raspberry Pi. There are different sensors which have a higher accuracy or a higher flow rate and maximum water pressure. These measuring aids are particularly interesting in the outdoor and garden areas. For example, the rainfall of a thunderstorm can be determined (drainage channel) or the irrigation of the plants can be checked.

The MCP 23017 device is an IO port expander. Because the Pi has only a limited number of GPIOs, these can easily run out for larger projects or multiple connected modules. A port expander is controlled by I2C and extends the number of IO pins. You have (per port expander) an additional 16 pins, which you can declare as input or output. You can also connect and control multiple port expanders at the same time.

If you call a Raspberry Pi Zero your own, you probably know the problem: Because there is only one (micro) USB port, an Internet connection is only per WiFi possible, because – unlike the Raspberry Pi 3 – it does not have an integrated WiFi adapter. If you would like to use another USB device, a USB hub is necessary. The ENC28J60 module can be used here: it is connected to the GPIOs and allows a wired Ethernet connection. Thus no external Wi-Fi stick is necessary and no USB hub is needed.

Price: about $3-4 / ca. £3

In many Raspberry Pi projects, cameras are also used. In this case, customary USB webcams can be used, but their quality is often not very good and also it occupies a USB port. A better alternative is the official camera module of the Raspberry Pi Foundation, which can be directly connected via the CSI port. The module is available in two versions: With (green) and without (black) infrared filter. The lack of an infrared filter allows a higher light sensitivity, which results in better images at dusk / night.

Price: about $15-20 / ca. £20

In addition to conventional resistors and potentiometers, there are also photoresistors. These have a light-sensitive surface and have a different resistance value, depending on the light intensity. They can be used, for example, to detect day / night or to build light barriers.

WS2801 LED strips contain many controllable RGB LEDs, which can be addressed individually. Depending on the model, there are variants with 30/60/144 LEDs per meter. With these LED strips Ambilight projects can be implemented very well. In contrast to the cheaper WS2812B models (which have only one data line), the WS2801B RGB LED strips can be addressed directly from the Raspberry Pi, which means that no additional Arduino is required as an intermediate storage.

Price: about $20 / ca. £19 (depending on length and density)
If you think there are still important Raspberry Pi sensors missing, I would be happy about a comment and I will add it to the list.
7 Responses