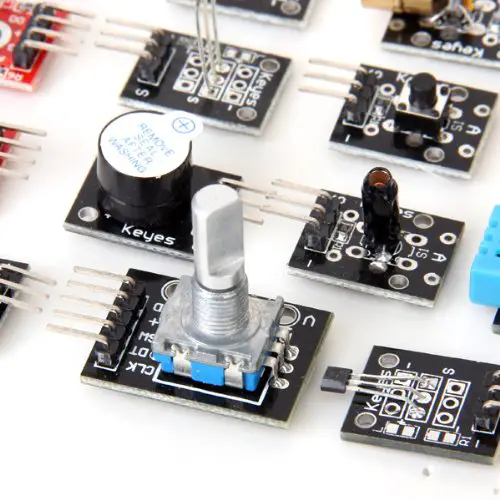 50 of the most important Raspberry Pi Sensors and Components
One of the many advantages of the Raspberry Pi is that it is possible to connect almost all standard Arduino and Raspberry Pi sensors and components to the dhtvarious GPIOs. Moreover you can evaluate and / or process the values with programs and other software. This accessory can be used in projects such as Smart Home (home automation), robot kits or weather stations, etc.
This article describes and summarizes over 50 of the most important sensors and components for Raspberry Pi's as well as Arduinos and provides you with a full Raspberry Pi sensor list.
Menu
The described Raspberry Pi sensors, modules and components are divided into the following categories:
Temperature / Humidity / Air Pressure / Gas
DHT11 / DHT22

The DHT11 and DHT22 sensors can measure humidity as well as temperature. Only one GPIO is used. The difference between the two is mainly the measuring range and accuracy. The white DHT22 can measure all humidity ranges from 0-100% with an accuracy of 2%. By comparison, the DHT11 (blue) is only able to measure areas of 20-90% humidity and above all, the accuracy is significantly worse with 5%. The light blue DHT11 sensor has a small price advantage (about one buck).

Price: about $3-4 / ca. £3

DS18B20

The DS18B20 and DS18S20 represents a very simple sensor. These Raspberry Pi sensors are addressed via the so-called 1-wire bus. An advantage is that many different 1-wire components can be connected in series and read out by a single GPIO. However, these modules can not measure additional information such as humidity and / or air pressure. The DS18B20 is particularly suitable for outdoor use, as there are also water resistant versions available. With a measuring range of -55°C to +125°C it is well suited even for non-everyday applications.

BMP180 Barometer

The determination of the air pressure can be meaningful in weather stations and similar projects. This is best done using the BMP180, which is controlled via I2C on the Raspberry Pi. In addition to the air pressure, the temperature can be read out as well as the altitude. However, the last value is not very accurate. If you need the height, you should read the values with a GPS receiver.

Price: about $5-6 / ca. £3-4

Moisture Sensor

This analogue humidity sensor finds an excellent place in automatic irrigation systems. It is placed in the ground and measures the humidity by current flowing between the strands. The more humid the earth in between, the higher the (analog) signal. In order to read the value with the Raspberry Pi, the MCP3008 is needed (Arduinos can recognize analog signals directly).

Price: about $4-5 / ca. £2-3

Capacitive ground moisture sensor

A problem with analog moisture sensors is that they erode over time and are not always very precise. Capacitive sensors prevent these problems. The relative humidity is calculated by means of the frequency. However, a frequency divider is also suitable for use with the Raspberry Pi.

Price: 5-7€

MQ-2 Gas Sensor

The MQ gas sensors can detect different gases at room temperature. Depending on the model, other gases are supported. The MQ-2 can recognize methane, butane, LPG and smoke, the MQ3 detects, for example, alcohol, ethanol and smoke, etc. You can find a list of all MQ sensors and their supported gases here.
You should take care that these sensors can be very hot and they should not be touched directly. Since these modules also work analogically with 5V, you need also a MCP3008 as well as a 3.3V-5V TTL to read the signals.
Motion Sensor
These Raspberry Pi sensors can be used to detect motion, but not all of them are "real" motion sensors.
Navigation modules
Raspberry Pi Sensors – Wireless / Infrared (IR) / Bluetooth
Motors
Servo Motors

Unlike ordinary motors, servo motors can be individually controlled. Only the indication of the angle of rotation for moving the motor is necessary. PWM (pulse width modulation) signals are sent to the motor. The Raspberry Pi can use this method of transmission. Using the Python GPIO library or WiringPi is particularly easy.

Price: about $2-3 / ca. £2

28BYJ-48 Stepper Motor

Step motors are motors that can "go" a certain number of steps in one revolution. Two electromagnets are built in, which move the axis through different poles. How the polarity looks like is written in the data sheet of the motor.
One of the most popular stepping motors (because it has a lot of steps and is nevertheless cheap) is the model 28BYJ-48. This motor has 512 steps, each step consisting of 8 sequences. This means that a full revolution has 4096 steps (or one step is made per 0.087°).

Price: about $2-3 / ca. £2

Using PWM, servos can be controlled directly from the Raspberry Pi. However, as soon as you want to control several servo motors, either the GPIOs can become scarce, or you need more power. The PCA9685 servo driver board is ideally suited for this purpose because you can control up to 16 motors per board via I2C. And not enough. It is even possible to connect several boards one after the other. In addition, an external power supply can be easily connected. If you want to use a robot arm, for example, this is the optimal board.

Price: about $4-5 / ca. £2-3

ULN2003

Those 28BYJ-48 stepping motors are often supplied with a driver board. The supplied board usually has a ULN2003 IC, which holds the voltage for the 5V motor, but can be controlled with 3.3V. This is important because the GPIOs are protected and no transistor or relay is needed.

Price: about $3-4 / ca. £2-3

L293D

An alternative driver IC is the L293D. The advantage of this module, compared to the ULN2003, is that it can also be used with higher voltages than 5V. Because many alternative stepping motors (e.g., fewer steps for faster rotation or higher pulling force) require more than 5V, they must be powered by an external current source. The L293 IC is ideal for controlling these motors. By the way, it is even possible to control two motors simultaneously (individually).
Analogous Raspberry Pi Sensors
Unlike the Arduino, the Raspberry Pi does not have its own analog IO pins. This means that you can not simply read out analog modules. The MCP3008 module helps you: It makes it possible to use analog modules with the Raspberry Pi and therefore this digital converter is required for all analog modules on the Raspberry Pi.

One of these analog modules is a 2-axis joystick. Two potentiometers (see below) for X and Y axes are installed, which allow more or less voltage to pass through the movement. If one converts the analog value into a digital, one gets numbers between 0 (no voltage) and 1023 (full voltage). In the center, a digital value of approx. 512 is returned on both axes.

Price: about $4-6 / ca. £3

Potentiometers are basically rotatable resistors. You can change the resistor value easily by rotating the control knob. Each module has a maximum resistance (minimum is zero). In addition to joysticks, potentiometers can also be found e.g. in brightness or volume controllers.

Price: about $3-4 / ca. £2-3

Heartbeat / Pulse Sensor

With a pulse sensor, the heart rate can be read out on the Raspberry Pi. The analogously detected value changes, depending on the pulse beat. This is again converted with an ADC and the pulse is determined on the basis of the last measured values.

Price: about $6-7 / ca. £4-5
Power / Current Supply
Relais

The GPIOs of the Raspberry Pi work with 3.3V, although it also has a 5V pin. However, many devices require a higher voltage. In order not to combine the circuits, one can use relays, which are basically switches. This has the advantage that you can also switch circuits with higher voltages with the Raspberry Pi, without risking something.

Price: about $3-4 / ca. £2-3 (depending on the amount)

LM2596 Buck Converter / Step Down Module

With the LM2596 (and similar) modules, higher voltages can be regulated downwards. For example, you can regulate the current of (rechargeable) batteries to the required 5V USB input voltage. However, no alternating current (AC) is allowed, but only direct current (DC), as supplied by batteries.

Some modules and sensors for the Arduino output 5V signals, but this would destroy the GPIOs, since those work with 3.3V. Here, a level converter can be used to further control the signals.
It is important to ensure that bi-directional level converters are purchased so that you can send and receive signals as well.
Displays
Other Modules, Components and Raspberry Pi Sensors
If you think there are still important Raspberry Pi sensors missing, I would be happy about a comment and I will add it to the list.
23 Responses